2019 Nantucket Islander Card Program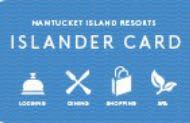 Nantucket residents can enjoy great discounts on Nantucket Island Resorts hotels, restaurants, spas, and gift shops with the Nantucket Islander Card. Check this page frequently for exclusive updates available only to Nantucket Islander cardholders.

To sign up today, complete our online order form or call 508.638.2423 and we'll send your card in a few days. If you prefer, you can complete the form offline and bring it to a participating restaurant to pick up your card.